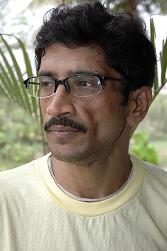 SOLO:
One man show at Tagore Art Gallery, Kolkata (1989, 1994)
GROUP SHOWS:
Annual Exhibition at Birla Academy of Art & Culture, Kolkata (1994, 1998, 2001 to 2003, 2006).
All India Annual Exhibition at Academy of Fine Arts, Kolkata (1993, 1995, 1998).
International Artists Exhibition organised by Artspace at Spikeisland, Bristol, UK (1998).
Exhibition of Paintings at Apparao Galleries, Chennai (2000)
'Utopia', an Exhibition of Drawings and installation at Max Muller Bhavan, Kolkata (2000).
Group Exhibition of Indian Artists at Nehru Centre, London, UK.
Exhibition of 'Young Talented Artists', Gallery La Mere, Kolkata (1997, 2000).
'Essence of Bengal Art' at Mulk Raj Anand Centre, New Delhi (2006).
'Pioneers to the New Generation' at Artsacre, Kolkata, 1992.
Group Show at Balgandharva Gallery, Pune (1994).
Group Exhibition organised by Artsacre at Nehru Centre, Mumbai (2001) and Rabindra Bhavan, New Delhi (2004).
'A Journey' a group Exhibition at Jahangir Art Gallery, Mumbai (2003).
WORKSHOP:
'Wood Cut Workshop' conducted by American Printmaker Richard Hard (1991).
'Kolkata Dresden Artists Workshop' conducted by Eberhard Goeschelo, Max Vhilg & Michel Freudenberg (1992).
'Collage Painting Workshop' at Arts Acre conducted by the French Artists Paola Di Prima (1992).
Terracotta/Ceramic Workshop organised by Lalit Kala Academy at Kolkata (1996).
Art Space Launch Event – Bristol – an international artists workshop at Spikeisland, Bristol, UK (1998)
'Utopia' conducted by a German artist, Tina Schwichtenberg.
AWARDS:
Annual Exhibition of College of Visual Arts Shuvaprasanna's Award, Kolkata.
COLLECTION:
Hindusthan Lever Ltd., Indian Bank, GEC, ABC Art Gallery (Varanasi), RPG, Usha Martin, Auradhan Art Gallery (Pondicherry), Crimson Art Gallery (Bangalore), India Today, Citibank, ITC, Hong Kong Bank and various collections around the world.
Apto Bhattacharya lives and works in Kolkata.