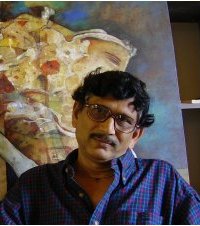 Awards:
*BEST OF MERIT in Annual Exhibition of Indian College of Arts and Draftsmanship,
Calcutta (1975)
* Awarded by Emerald Isle Gallery Calcutta (1996)
*BEST OF EXHIBITORS in Indian Arts College (1977)
* Award HONORABLE MENTION in fifth all Indian Art Exhibition by A V ANTIKA,
Delhi (1997)

SOLO EXHIBITION:
2008: Alankritha Art Gallery, Hydrabad
2002: ART PILGRIM, NEWDELHI.
1995: L.T.G. Arts Gallery, New Delhi.
1991: Academy of Fine Arts, Calcutta.
1977: HOWRAH organized by Salkia Chatradal.